Since 2018 my company, Fire Hydrant Pet Sitting Co., LLC has been hosting annual drives in February for a local animal shelter. Instead of collecting money donations, we collect supplies that the local animal shelter or rescue will need. The local rescue we decided to donate to was Priceless Pet Rescue. So each year, we contact our our clients and friends to collect as many donations as we can. On Valentine's Day we drop them off at the rescue! To help motivate others to do this in their community as well, here are 4 SUPER easy steps to How to Start A Supply Drive for an Animal Shelter.
1. Research
Do your research first! Research the following:
What shelter do you want to donate to?
Why do you want to donate to that shelter?
What's the shelter's history?
By answering those questions, it'll help explain to your clients, friends or family why you are doing this. Make them care and WANT to donate. Be an expert at YOUR drive.
Priceless Pet Rescue + Why We Chose Them
For my company, we chose Priceless Pet Rescue because it is a nonprofit organization that strictly operates through donations. They do not receive any funding from the government or any of the national humane organizations once so ever. (Disclaimer: I am not getting paid from Priceless Pet Rescue. All thoughts, opinions, experience, and advice is my own.)
Since 2007, Priceless Pet Rescue went from hosting adoptions at local PetSmarts to opening their first storefront in 2011 in Chino Hills, CA. Priceless Pet Rescue is motivated to lead the no-kill movement, and strives to save animals that are at a high risk of being euthanized. Their two "Orphanage's", are located in Chino Hills and Claremont, California.
Before posting a pet up for adoption, Priceless Pet Rescue volunteers work with each pet to learn about their past, their triggers, social ability, and aggressive triggers. Laurie Cantwell, Volunteer Coordinator at Priceless Pet Rescue, shares with us that "Every dog and cat that comes to our adoption center comes with a story, usually one we don't know about. We try and find out as much information as we can so we can help them find the appropriate house." Once a pet gets adopted, they are spayed/neutered, microchipped, and receive all the necessary vaccinations.
This is why we chose them, and we made sure that our clients knew why too. PPR works very hard, and because they don't receive funding from the government, they are going to need as much help that they can get.
2. Contact the Shelter
Now that you have done your research, and have picked out which shelter you want to do the drive for, it's time to contact the shelter! Let them know what you plan to do and when you plan to drop off the donations.
The shelter may be able to help promote the drive to help you collect more donations. They may also provide additional information about the shelter that you may not have been able to get off their website.
Don't forget to ask them what supplies they need the most! When we contacted them, they sent us a list of the things the rescue needed. It was things like….
Laundry Detergent
Printer Paper
Dawn Soap
Used Towels and Blankets
Pill Pockets for Medication
Disposable Gloves
Paper towels
Toilet Paper
Slip Lead Leashes
Pee Pads
And the list continues. Just contact them to see what they need!
3. Come Up With a Name + Poster for Your Drive
Research :: Done
Contact the Shelter to see what they need :: Done
It is now the time to create a name for your drive, and create a poster or flyer to have a visual for your co-workers, clients, friends, or family to see!
For us, we chose 'Share the Love Pet Supply Drive'. We chose this name because we host our drive in February and drop off the supplies on Valentine's Day. A whole lotta love is going around for Valentine's Day, and we wanted to make sure that the pets without homes are getting some of that love too!
Here is our poster from 2018, Share the Love Pet Supply Drive.
Here is our poster from 2019, Share the Love Pet Supply Drive.
4. Share the News
You have your name + poster, now get the word out there! Share the details of what people should donate, how you plan to get the donations, when you need the donations, and when you plan to drop the donations off at the shelter.
Text your friends, family, co-workers, and clients about your supply drive
Send out an email or newsletter
Post on Instagram and other Social Media Networks
Share on Facebook

Share to local Facebook groups. Sometimes there are groups for your city. For example, "Claremont Connected" or "Pomona Community Board". It's residents in the city that you can reach out to about your supply drive, and other events.
Share on your personal Facebook wall, just in case any Facebook Friends that you did not text have an opportunity to donate as well.

Post on NextDoor, another community based website
Post flyers at local pet stores or coffee shops.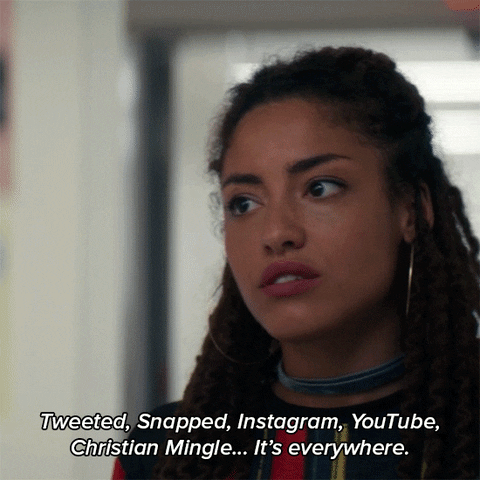 There you have it! It's that easy! You just have to get up and begin. Before you know it, it's a thing that your clients, co-workers, family and friends look forward to each year, and are happy to be a part of.
---
Have you tried these steps? How did your drive work?
Share your experience with me in the comments below!