Entering the world of blogging was definitely not on my agenda! Sure, to help get feelings off my chest and for the fun of it I would turn to writing. But of course as you grow up and life takes over, there just isn't that much time to make writing a priority. So why start a blog and enter the world blogging? Well here is MY story on Why I Started Blogging.
How My Love for Writing Began
Writing Short Stories
Ever since I was a little girl I enjoyed writing short stories and typing on the computer that we had in the living room on a high top table, with me dangling my little legs on the stool. My dad would edit and critique my short 1 chapter stories as often as I presented them to him.
In my free time, I loved creating characters always named Audrey or Daphne Banks that fell in love with a boy named Andrew Smith.
Side note: Audrey is my aunt's name, and Daphne was from my Barbie doll that is from the Scooby Doo collection. Andrew was an elementary school crush of mine that lasted for years up until 6th grade.
Audrey/Daphne were of course very rich and successful and just needed a man to fulfill the rest (oh bless my childlike mind). Andrew and Audrey would live in NYC, because that's where I always dreamed of living. Audrey was working hard in the fashion industry making a name for herself, while I don't think Andrew even had a job (if so, it wasn't important because it would take away from Audrey and Andrew's love interest!)
I would write the stories in 3rd person, and every time the characters spoke I would include 'she said' 'he said' 'she responded'.
The laughs my dad must of had reading these!
Receiving My First Diary
I remember the day my dad took us to Barnes's & Noble on the Plaza in Kansas City where he bought my my first diary. It was a yellow spiral notebook that had butterflies on them with purple and red wings.
My dad knew that I liked to write, so he always encouraged me to journal each day, or at least as often as I could. He told me that I can take my feelings out in it, write my stories, anything. After I journaled I would show him and have him read it too.
When I was 9 years old my family and I went to South Africa for two weeks. While we were there I did not have the yellow spiraled journal, but instead a notebook. And my silly 9 year old self did not know how to spell diary, and instead wrote DAIRY. We went on a safari and we had a British couple with us, and I remember the wife pointing that out.
"Dear Dairy?! Do you mean dear DIARY?"
She of course chuckled and got a kick out of it while I smiled awkwardly back out her embarrassed.
Friends Became More Important
For some reason as a kid I LOVED to show off my diary and let people know that I was writing in it. I would take it everywhere and on each vacation we took as kids.
Once I got into middle school and high school, the desire to write regularly and create fictional short stories began to fade. I was too interested with meeting my new middle and high school friends instead.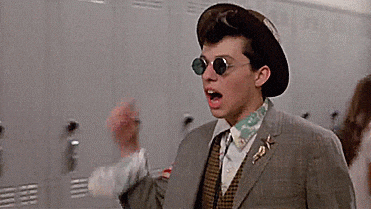 In middle school, I remember joining the Yearbook club. In High School, I had Journalism as one of my electives. From what I remember, I did not like the Yearbook club, and Journalism was easy. I just did not fully apply myself!
After that year of taking journalism, I kept my writing to a minimal. I was too caught up with hanging out with my friends and being on the Track team. I would still write here and there, especially if I was really upset or confused about something. But that's about it. No more short stories with Audrey/Daphne Banks and her love interest.
College
I was very lost in what I wanted to do. To this day, I still don't really care what job I have as long as it allows me to travel.
In College, I remember taking public speaking and LOVING it. Another class I had to take was Composition 1. That professor gave me the the best advice I was ever given and use it still to this day:
"Show up. Pretend you care. Do the work."
If you show, and pretend you care, you end up doing the work. In that order. Next thing you know you are passing the class. In other words, "fake it till you make".
In that class it brought out the writing in me again. We would of course had to write numerous of papers, but they all had a personal touch to them. To write up 3-10+ pages of work was no problem. I dreaded it, but I appreciated it.
Discovering Blogging
It took a couple years from taking that composition class to really take up writing again.
I started to study Human Resources / Business Administration. Moved to California. Got a job as an HR assistant at a sales and marketing firm in Orange County. Eventually leaving that position to create my own business in doing another thing I loved, caring for animals.
Related: How I Quit My Job to Create My Own Business
When I worked as an HR assistant, and was debating on quitting my job or not. I remember listening to so many podcasts, especially Jake Nawrocki's Operation Self Reset. I do not remember the timeline exactly, but I remember Jake's episode 20: What Do You Want to Be When You Grow Up? The guy in the episode said that as a kid he always wanted to be a ninja. So this guy quit his full-time teaching job to go off and become a real like ninja.
The point was that maybe our passions and our purpose is something that we've been doing or wanting to do/be as kids! That made me think, "hm, I always loved to write. Maybe I can do something with that."
At the same time, I was also looking into more ways of helping my business website out. I came across that blogging can help bring more people to your site.
So the hunt began! Finding out information on self-hosting vs. not self-host sites. Learning the difference between SquareSpace, WordPress.org, and WordPress.com. Reading on how you can make a profit and truly blog full-time through these things called affiliate links. How people would make a living selling courses or coaching other to help with their blogs.
Creating Curly 'N Loud
It took me a year to finally say enough with reading how others were succeeding and creating their blogs. In 2019 I decided to go for it and start Curly 'N Loud.
Writing has been something I have always cared about. It's been a way to express my feelings and get my thoughts straight. How cool is it to have a complete website to be able to share those thoughts and experiences!
So far, the last couple months have been a blast and have been challenging myself to create more content. Each week I learn something new about blogging to improve this blog. Hopefully, slowly but hopefully, I am getting better. It's been fun to take pictures only for the gram and to have a schedule to stick to for these posts.
My Mission
With this blog, my mission is to write and share my experiences on living the life you've always wanted, being your best self. Eating the food you've always wanted to try. Traveling to the location that you've always wanted to see. Go There. Eat That. Be You.
I always wanted to live outside of Kansas City, so I did.
I wanted to take care of pets full time, so I do.
I dreamed of having my own business, so I started one.
Sometimes it just takes a little push, and seeing someone capable of doing it too!
What are your dreams? Share them with me so we can help you reach them! What are topics that you would like to see and read about? I'm on your side. No judgement. Send me an email or comment in the comments sections below!
Goals for Blogging
Overall, blogging is something I am doing for myself because I love to write. I want to help others live a happier life of course, but I'm doing this because I love to. Just like anything, goals must be set in order to get anywhere. Because I love to write, I want to be able to include more in my day-to-day life.
My goals for blogging are…
Writing a sponsored post.
Earn $300 for a post.
Hold inspiring events to help people follow their dreams.
Create an interactive community
Lastly, replace one of my sources of income that I no longer wish to continue. I would love it if Blogging could take it over.
Creating a website, being able to write and share things with you is why I blog. It's my happy place…besides my garden 🙂
---
What are your dreams?
Share them with me so we can help you reach them! What are topics that you would like to see and read about?
I'm on your side. No judgement. Send me an email or comment in the comments sections below!
Email: curlynloud@gmail.com