Road trips are definitely one of my most favorite ways to travel! The views that you get see and things that you just happen to stumble upon make great stories. I want to pass on this love for road trips and help you get ready for yours! Here is the essential guide for your next road trip!
Disclaimer: This blog may include affiliate links, and any purchases made through such links may result in a commission or credit to Curly 'N Loud at no extra cost to you. All thoughts, opinions, experience, and advice is my own.
Points we will cover…
How to Plan + Prepare
How to Save Money
What to Pack
Favorite Road Trip Snacks
Road Trip Entertainment
Things You Should Be Taking Advantage Of
Plan + Prepare
Thinking about taking road trip?!
There are ENDLESS options to choose from. There are adventurous routes that you can take to explore the U.S.. For example Route 66 that goes from California to the Midwest!
Or you can take simpler routes like Kansas City to Denver, Houston to Dallas, Los Angeles to San Francisco. Honestly anywhere!
YOU JUST HAVE TO MAKE A PLAN!
Figure out where you want to go
Find out how far it is and how long it will take you to get there
Research what the weather will be like
Do a little research on the area to see what prices are like (gas, shopping, food, hotels, etc..) Since some areas are more expensive than others
THEN PREPARE!
Decide whose car you are taking
Make sure the car is in good condition to drive the distance you are trying to go. Make sure to check the following…

Tire Pressure
Oil — When was the last time you had an oil change?
Gas — Have a full tank of gas before you head off onto the road
Have coolant / antifreeze in your car — we don't need your car overheating now
Spare tire + car jack — make sure they are both in good shape and you have them handy (Along with your AAA card + their phone number)

Determine who is all going on the trip
Plan where to stay

AirBnb
Camp Site
Hotel
**Make sure to compare prices** Sometimes with AirBnB's fees (AirBnB fee, cleaning fee, extra person fee, etc..), they end up costing more than a hotel! Do your research.

With my AirBnB code, get anywhere from $15 to $40 off your first stay!

Decide where you will be going once you get to your destination

Make sure to have an idea of the place you plan to sightsee
Find out if parking is free or not
Research the business hours
Make sure to research and have appropriate attire if you plan to go somewhere with religious practices

Research FREE activities
How to Save Money
Some may think that road trips are too expensive.
When really traveling overall can be too expensive. It just depends what you value and how you CHOOSE to spend on your trip, either if you fly or drive.
The #1 way you can save money on your trip is to make your own food!
This is one of the major benefits of taking a road trip, because you have a car that has enough room to hold a cooler and whatever else you need. Plus there is no TSA telling you that you can't bring a pack of water or your shampoo! BYOB if you'd like!
As you can see, we packed a lot! Even our Vitamix, I was very close to even bringing my Keurig. HA!
In the cooler we had…
Rosé
Almond Milk
Vegan Deli Meat
Vegan Cheese
Spinach
Onions
Avocado
Bread
Bolillos
In the Target bag we had…
Bananas
Almond Butter
Homemade Muffins
Simply by packing your own food can save you hundreds!
On our 3-Day Weekend getaway, we had avocado toast and banana smoothies for breakfast, sandwiches for lunch, and to save on spending money on alcohol I bought a $10 wine from Target. (Not advertising Target, just happen to go there a lot!)
Before, we would just eat every meal out. Overtime we get so sick because we are constantly eating out. When we are at home we don't do that, but yet here we are on vacation having to eat out for every meal. IT SUCKS.
We would drop anywhere between $25-$40 on breakfast, depending on if mimosa's were ordered. Drop another $20-$30 on Lunch. Drop another $5-$10 on coffee. Then of course dinner is the big one where you spend $30 to $40+!
This doesn't even include activities, events or even shopping! Just food alone!
So make sure to plan and prepare on what food you can pack with you to help save you money. Even my making at least one meal a day will save you a lot of money!
Have Other People With You
This will help you save money individually if you have other people in the car with you. You can take turns paying for gas, ordering meals, and taking turns to pay for parking.
This is a benefit so not all the expenses fall on you!
Avoid Temptations!
Take a rain check on that breakfast mimosa or evening glass of rosé! And take it easy on the shopping! (You probably have the same stores back home!)
Just because you are on vacation, you still need to have self-control.
All good things come to an end, and when they do and you check your bank account, it will not be good. So take it easy and JUST SAY NO. You will be alright.
Save money by buying your own bottle of alcohol instead of buying a glass at a restaurant. Try skipping out on buying a gift for everyone you know, and possibly just send a thoughtful post card instead or limiting the gifts. It's all about balance and not getting sucked in to those touristy "deals", AKA temptations!
What to Pack
If you followed step one, Plan + Prepare, then you should know what the weather is like, what activities you will be doing, what shoes to wear, etc..
It's cool to overpack on food to help save money, but do not overpack on clothes! There has been SOOO many trips Alex and I have taken where we don't where at least one or two outfits that we packed. A big one for me is the amount of shoes I bring. On this last trip, I brought four pairs of shoes and only wore two of them!
PLAN OUT YOUR ATTIRE. DO NOT OVERPACK.
Here is a short guide on what to pack…
Clothes
1 pair of jeans
1 pair of shorts
Walking shoes
Nice shoes / sandals
Sweatshirt / Jacket
1 bedtime outfit
1 nice outfit – for a date night or religious event
Toiletries
Tooth Brush
Tooth Paste
Hair Products
Make Up
Deodorant
Floss
Feminine products (Just in case!)
Shampoo / Conditioner
Misc.
Chargers (phone, laptop, etc.)
Entertainment
Cigarette Adapter
Car Charger
Trash Bag for Car
Flashlight
First Aid Kit (we have needed this so many times!)
Pillow
Blanket
Cell Phone Car Mount
Favorite Road Trip Snacks
As we mentioned above, the #1 way to save money on vacations is to make your own food! Obviously in the car it's a little hard to do, so make sure to plan + prepare ahead of time!
We do try to stay away from foods like chips and Hostess donuts, since those don't give us the energy we need to get through the drive
Here are some of our favorite car snacks and drinks:
Sandwiches
Bananas
Muffins
Grapes
Gum
Granola Bars
Apple Sauce
Water
Gatorade
Juice
>>>What are some of your favorite road trip snacks? Share with me in the comments!<<<<<
Road Trip Entertainment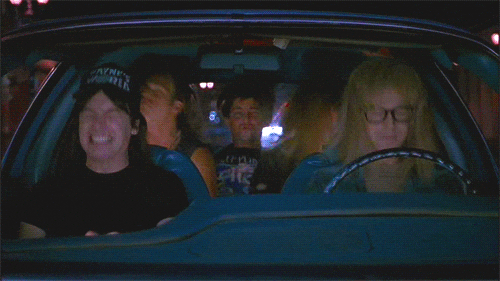 As kids, we had a portable TV that had AUX cord plugins + VHS player that my brother and I would hook up the Nintendo GameCube to. As we got older and got a new car, my parents installed a TV to the roof of the car. This was such an upgrade for us! We would watch so many movies!
Now as an adult, it's a little bit harder to do that.
Listed below are some great ways that I now personally enjoy, as my entertainment, on a road trip!
Reading a book
Napping
Podcasts
Audiobooks
Music Playlists
Favorite Netflix TV shows downloaded
Napping is a great form of entertainment to help pass the time, HA!
No, but really! Make sure to have your movies/shows, podcasts, audiobooks, and playlists ready to go before the drive. Out on the road there is a lot of spotty wifi areas. So plan ahead of time, and prepare for it! Have it all ready!
Things to Take Advantage of While on the Road
Rest stops!
Go pee, walk around, and get some water! Traveling is exhausting and not always the easiest thing on your body.
So give your body the break it needs and get some blood pumping through your tissues.
DO NOT, I repeat, DO NOT hold your bladder through the car ride. Nor shall you avoid liquids all together to avoid using the bathroom. I have done this too many times, and strongly believe I have finally learned my lesson.
You need to keep your body hydrated, it makes traveling that much easier
Do not hold your bladder just so you don't have to pull over, because something may happen on the road and you are stuck in traffic no where near a bathroom. You may also be in the middle of no where and a rest stop is not available for another 10 miles.
So take advantage of the rest stops!
The Drive
Enjoy the drive! Look around you and take it all in. Even if it's just wheat fields and cows.
It's okay if you do not get to your destination at the time your GPS estimated that you would. Things happen (traffic, bathroom/food breaks, gas fill up, etc.), and that's okay!
Road trips are meant to be fun. You can play games, talk to your partner, enjoy the silence or the views, finish that book you've been meaning to read, catch up on your naps, and so much more!
JUST ENJOY IT + HAVE FUN!

Clean House
Clean your house before you go! Vacuum and sweep the floors. Get the dishes cleaned and put away. Clean out the litter boxes, take out the trash, and make your bed!
Yes, it is a hassle when you are trying to get out of town. But let me tell you, coming home to a clean house is a great feeling. Seeing that there are no dishes to clean, and the bed looks all perfect. 🙂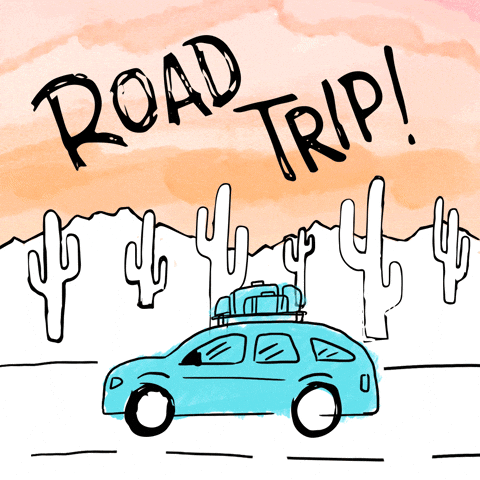 ---
Comment below, share with me where you like to take road trips to!

Did you find this guide useful?

Share your feedback with me in the comments below
or
email me at curlynloud@gmail.com
>> Share this post! <<