The essential guide to hiking the Manitou Incline in Manitou Springs, CO.
The first time I ever hiked the Manitou Incline was back in the summer of 2015 with Alex, and three guys from work. I had no idea what to expect, I honestly thought it would just be another hike with a slight incline. My knees were burning and I needed to stop and rest way longer than my friend, Chase, was allowing me. I look up and I think we are almost there. Then Chase was like, "oh that's not the top! That's the fake top that I was telling you about!"
The first time I went to the Incline, I clearly was not prepared mentally nor physically.
BUT, when we reached the top it suddenly made all of it worth it! The view was gorgeous!! It's a view that once you reach the top you just have to sit and admire it, embrace the moment. What a self accomplishment it was, to know that you took each step on the way up to receive such a beautiful reward. The trees, the mountain tops, the view of the city below, and people cheering others on to ensure that they've made it to the top!
Because of this feeling of being on top of that incline, it has brought me back to Manitu Springs each year to challenge myself and to overcome fear, and strengthen the mindset that I can do it!
I went back twice in 2016 with my friend Chase and another time with Bear, my brother and father.
In 2017 + 2018, I went once each year with my brother and father.
And this past year, 2019 was the first year I went with my mom! She loved it so much to that she is already planning her next trip to go back and attempt the incline again!
Manitou Incline 2015 | Incline Guide

Manitou Incline Jan. 2016 | Incline Guide

Manitou Incline 2016 | Incline Guide

Manitou Incline 2017 | Incline Guide

Manitou Incline 2019 | Incline Guide
So let's dive into your essential guide so we can ensure that you too may have a successful hike up the incline!
About the Manitou Incline
Level of difficulty: Hard
Don't let the difficulty of this incline stop you, but definitely make sure to plan ahead of time and hike with caution. Everyone is so nice along the hike that they will encourage you to keep going. You will see people from all different backgrounds, body sizes, ages, and athletic ability along the incline.
They redid the incline a couple of years ago. I look back at pictures from 2016 to now, and the incline is SO much safer and in way better condition!
Hours: 6am-6pm year round.
Allowed time: 30 minutes to 3+ hours
Some very athletic people will be running up and down the incline and complete it within 30 minutes. I take about 50 minutes, my brother takes an hour, and my dad takes about an hour and 15/20 minutes. But then there may be some not-so-athletic people like my mom (I love you!), who takes about an hour to get to the halfway mark and another 45-60 minutes to get to the top.
There is also a trail that you can take to get to the bottom of the mountain if you don't want to go back down the stairs. That trail is about 4 miles and can take another hour or so.
Best time to go: In the morning because it can get hot! Plus parking may be a little bit easier, and the incline won't be too-too busy. My families favorite time of the year to go is April.
Distance: The incline itself is 0.88 miles. The trail along the side the incline is 4 miles.
Price: It's free to hike the incline.
Parking: To park at the base of the incline it's $5. If you park along the strip where there are a bunch of shops, we paid $5 for four hours at the parking meter.
Cell Service: Good ; also may depend on who your cell service provider is. I have AT&T and it works great!
Bathrooms: Yes, porter potty's are available prior to the hike. There is also a little café/gift shop that has bathrooms available for customers.
Water: No water fountains, but there is a café/gift shop that sells a variety of refreshments.
Dog Friendly?: No. This trail does not allow dogs for their own safety.
BUT between you and me *wink*, many people take their dogs on this hike. Each time I have done this incline there has been dogs from pit bulls to labs, golden retrievers, poodles, etc.. I have taken a dog 2 out of the 5 times I've done the Incline, and they have been great! The first was my Bear (German Shepherd / Akita mix), and the second time I brought Kali (Chihuahua mix) who I did carry up, and then I let her walk on the way back down.
Please keep in mind that there are signs that say dogs are not allowed. So bring a dog at your own risk.
For more information + history on the Manitou Incline, click here.
Before You Start the Incline
Go to the bathroom
Fill up your water bottles, there is no water fountain. If you forget, go to the cafe / gift shop at the bottom of the incline to purchase water.
Charged phone
Be courteous and respectful of the environment and others around you. There are NO trash cans along the incline. Please throw away your trash once you get back to the bottom of the trail/incline, and keep the trail and the environment clean!
Now if you CHOOSE to bring your dog at your own risk, then please keep in mind the following:
Make sure to secure your pets collar/harness. There may be other dogs hiking the trail or incline, so just be cautious and in control of your dog.
Bring water for your dog. Once again, they are not allowed due to ensuring the safety of your dog. So be prepared and keep your pets hydrated!
Have plenty of poop bags on hand! My Bear tends to poop a lot when he's excited. Dog are not supposed to be on this incline in the first place, please do not make this case worse by not picking up your dogs sh*t. After you pick it up, PLEASE throw it away once you find a trash can.
Ready? On Your Marks! Set! Hike!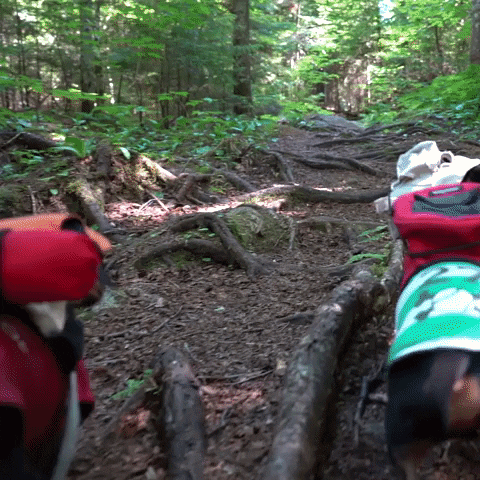 Once you find parking and see the little cafe / gift shop, you are in the right place! It's straight forward on how to begin the incline. There are gates leading right to it, no forks or turns, just a straight path.
If you are going up the Barr Trail, it is to the left of the Incline.
When you get to the base of the Incline there are benches, a wood post with information, a few signs, and a trash can.
Manitou Incline Jan. 2016 | Incline Guide

Manitou Incline 2016 | Incline Guide

Manitou Incline 2019 | Incline Guide
Once you are ready to go, your water bottles filled, your shoes laced up, start stepping! As you go up, you'll notice little markers on the steps that let you know where you are and how many steps you've taken.
Tips to Getting to the Top
Remember to breathe!
Take in the scenery that is around you.
Have a water bottle.
There are steep points on the Incline, it's okay to get on all fours.
Focus on taking one step at a time!
Do not chug a lot of water till you reach the top, my brother and I speak from experience *wink*
Come up with a rhythm to keep you going.

My brother would go 100 steps, and then take a two-minute break.
I would set a goal of where to stop, and then break for 30 seconds.

Take as many breaks as you need for as long as you need.
Utilize self-talk. Tell yourself to keep going, and that you can do this.
Listen to your body. If you need to stop, then stop. No one is making you get to the top, do what is best for you.

My mom was able to get to the half way mark (which is before the fake top) and she was SO proud of herself to getting to that point! She is already making goals to get farther along the next time we go.
Point is, go as far as you like!

Most importantly, have fun! Once you reach the top, it'll all be so worth it! It'll make you fall in love with it like many other climbers have, and it'll keep drawing you back!
Once You Reach The Top…
ENJOY!
Take in that view!
Ask someone to take your picture, and then help others take theirs!
Manitou Incline 2016 | Incline Guide

Manitou Incline 2019 | Incline Guide

Manitou Incline 2019 | Incline Guide

Manitou Incline 2019 | Incline Guide

Manitou Incline Jan. 2016 | Incline Guide
Coming Back Down
To get down from the mountain, you can either go down the Barr Trail or go back down the stairs.
Once you get to the top, you'll see those last few steps are quite steep and may make it hard to get down. So what we do is take the Barr Trail down to the half way mark, and then take the stairs the rest of the way.
The Barr Trail has some beautiful views that you should take advantage of!
Manitou Incline 2019 | Incline Guide

Manitou Incline 2019 | Incline Guide

Manitou Incline 2016 | Incline Guide
If you are in a hurry, then I do recommend taking the stairs back down since they are a shorter distance than the trail.
After the Incline
After you get done with your hike, here are a few things to check out while you are in the area!
The cafe / gift shop at the bottom of the incline. They sell snacks, cool t-shirts, magnets, patches, etc..
The strip that you pass through to reach the incline. There are plenty of shops and restaurants to check out!
Garden of the Gods! It's approx. 15-20 minutes away from the Incline. Your pups are allowed as long as they are on a leash!
And if you did decide to bring your dogs along for the hike up the Incline, make sure they have plenty of water + are in a comfy place to rest, because they sure will be exhausted!!
Manitou Incline 2016 | Incline Guide

Manitou Incline 2019 | Incline Guide
Happy Hiking!
---
What are your favorite trails to hike in Colorado?
Share with us in the comments below!
>> Share This Post <<