Here is your ultimate guide to help prepare you for your big move!
I moved out of my moms place when I was 19, and I moved to California with Alex and his college friend, Zero. As fun as the adventure was, I was totally unprepared! The first year living on my own was the most stressful time.
I want to help prevent this from happening to you! I want to help you be prepared, know what to expect and what to do to make sure you are ready for your next move!
Disclaimer: This blog may include affiliate links, and any purchases made through such links may result in a commission or credit to Curly 'N Loud at no extra cost to you. All thoughts, opinions, experience, and advice is my own.
6 Things to Know Before Moving
Listed below are some basic things that you should know before moving into your new place. Some of these are things that I wish somebody told me, so I hope you will find them useful!
1. Everything will be okay
Moving into our apartment in California and not knowing where anything was, or not even knowing anyone in the city made things SUPER difficult. We didn't have any furniture, we just had whatever we could fit in two cars. I was so stressed out because I was loosing money, racking my credit cards in debt, had online classes to complete, and I couldn't find a job.
So my advice to you is to BREATHE! Everything will be okay! I don't know how, but just trust the process. Everything will work out. When you move into a new place, you won't know everything. So just take the time to let it be, and it will sort itself out. Do not stress over it, and just keep trying. Do not give up.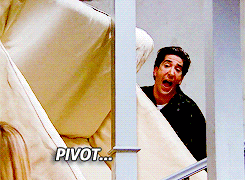 2. Know your lease + it's requirements
Once you sign the lease to your place, make sure to ask for a copy! Keep it in a safe place so it doesn't get damaged.
This is a great thing to have just in case you need to refer back to something within the agreement.
3. Be careful with your spending
Yes it's SO exciting to be living in a new place!
BUT, be careful with your spending! Just because you have this new place and you want it to be like the houses on Pinterest, it's not worth going into debt over! Save your money and come up with ways to save to pay for the things you want.
4. It's okay to start with the basics
Like mentioned in the previous bullet point, be careful with your spending! It's okay to start with the basics.
Make sure you have what you need to make sure you have food, a bed, and whatever else.
For us, we bought the cheap version of quite a few things to help get us by until we can afford the nicer things. For example, we had a really old TV, but what was important is that we had a TV. We then saved our money and a couple later we were able to buy this super nice new TV.
We didn't have a nice couch either, we got ours free from the street corner. YES WE MADE SURE IT WAS CLEAN, AND THEN WE CLEANED IT AGAIN TO JUST MAKE SURE! But by doing that, it helped us save for our nice couch that has a built-in bed.
We didn't have all the kitchen supplies that we do now, but again, we SAVED for them! But we also just used what we had, which was two pans and a pot with some kitchen utensils to cook. Nothing fancy! And THAT'S OKAY!
Start with the basics, and get the nicer-fancier stuff later down the road.
5. Stay Clean + Organized
Moving is a mess. There is no way around it, there is always just much to do. Making sure your old place is cleaned up and you packed everything, and then getting the new place ready and unpacked.
A word of advice is to keep everything going as smooth as possible is to be as clean and organized as possible. When you are moving things into your new place, try to put the boxes in the room they are going to be in. So if you have a box with bedroom items, then put the box in the bedroom.
Once you finish packing up boxes in a room, instead of starting on the next room to pack things up, go ahead and just clean that room you just finished. Then you don't have to worry about it and it's done. Don't save cleaning till the last minute, it makes it dreadful and can take hours!
6. Plan + Label
You guys should know by now that I am HUGE on planning. Planning is the most essential step to do ANYTHING. You will get farther along in so much just by doing some prepping ahead of time.
When it comes to moving, it'll make things way easier if you know which room is what. So if you know bedroom A is actually going to be an office, then know that ahead of time so then when you're moving you can put the office boxes into the office. Also try to plan out beforehand where everything is going when you are moving. Is it going into a moving truck or into the car?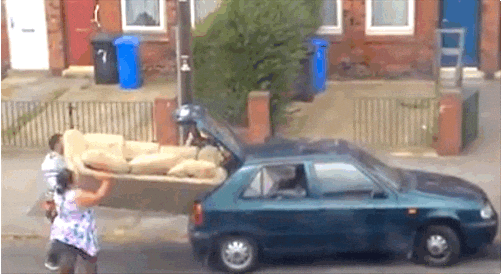 Plan ahead of time by looking around your current place and deciding what is not going to the new place. If you know that lamp isn't going, prep a 'donate' or 'throw out' pile so you already know and aren't worrying about it when it comes time to move. Plus that's one less thing you have to worry about moving!
5 Things You Need To Do When Moving
Now that you've prepped everything, and know what you need to know. It's time to make sure you have do a few things to make sure you are set to go!
1. Set a budget
Very important! Have a budget for your move, a budget for things you intend to purchase, a budget for anything that you need help with managing your money.
Know where your money is going!
2. Make Sure The Essentials Are Set Up
Before moving in, make sure you have the following set up…
Electricity
Utilities
WiFi
Renter's / Home Insurance
Trash Pick-Up if you're moving into a house
3. Change of Address
Don't forget to change your address!
Not only with your mail but on any subscriptions services you have, credit/debit cards, the bank, your phone company, the DMV and your driver's license.
For assistance for changing your mailing address, you can do so here.
To change your address with the things listed above, contact the company's support team or by going online to your account settings.
4. Ask Questions
DO NOT, I repeat, DO NOT hesitate on asking questions before moving into your new place!
There are no stupid questions. It's better to ask than assume and not know for sure. To get you started, ask your potential landlord the following questions when deciding if this is the right place for you…
Is it a 6-month or 12-month lease?
What's the pet policy?
Is there available parking within the complex, or is it street parking?
Is there an on-site laundry facility or in-unit laundry available?
When the lease is up and I want to move out, is a 30-day or 60-day noticed required?
Is there a refrigerator provided? (TRUST ME, we didn't have one when we moved in and was a huge unexpected expense.)
How do they prefer payment for rent?
What days are street cleaning?
When is trash pick-up?
Are any utilities included in the rent?
5. Do Your Research
Last but not least, do your research! Make sure to research the following…
closest grocery store
nearby gas station
closet hospital
Information about the school district
the crime rate
apartment's reviews
neighborhood reviews
closest target (just sayin'!)
With these 11 tips in place, and a free printable checklist, you are set and ready for your big move!
---
What were some struggles you came across with your move? What did you do to help overcome those struggles?
Share with me in the comments below, and help others to prepare for their move!
>>> Share This Post! <<<